Banking Mason since 1901
The Commercial Bank is locally owned and independent from all other banks. Our goal is to keep our depositors' funds safe, offer convenient services, and be the most competitive local resource for loans. We invest our customers' deposits in loans to people who have a stake in our community. The bank seeks to finance real estate, agricultural and commercial operations, and consumer purchase loans. Our lending staff is equipped to make very timely decisions.
Our customers and staff are our most valuable asset. Therefore, relationships are crucial to us. We want our customers to have "the bank of a lifetime," and we want customers for life. Small town banking is alive and well at The Commercial Bank. Our staff is always available to serve our customers. We strive to make banking easy for you while giving you fast courteous service.
The Commercial Bank
100 Moody Street
P.O. Box 40, Mason, Texas 76856
Call – 325-347-6324
Fax 325-347-5960
Established in 1904, we at Mason Bank are working on our Second Century of Service! Our friendly and experienced staff will be happy to serve all your financial needs. We offer loans of all types.  Please check with our loan officers for full details.
We would like to serve your borrowing needs!
Personal Loans
Vehicle Loans
Recreational Loans
Agricultural Loans
Commercial Loans
Residential Real Estate Loans
Ranch Real Estate Loans
Home Equity Loans
LOAN OFFICERS:
THOMAS H CANFIELD JR. – 325-347-5914
CONNIE STOCKBRIDGE – 325-347-5915
JAY TEDDER – 325-347-5981
Capital Farm Credit is not just a farm and ranch lender. We also have a Home Loan Department. Home loan specialists located throughout our territory offer expertise in financing your home in the country. We offer flexible rates and terms, purchase loans, construction loans, refinance loans, second-home loans, investment home loans, FHA loans, & financing inside or outside city limits.
Capital Farm Credit, ACA (#493828) is in compliance with the Secure and Fair Enforcement for Mortgage Licensing Act (the S.A.F.E. Act). Part of our compliance activities includes registering Mortgage Loan Originators (MLO) with the National Mortgage Loan System's registry (Registry).
431 Ft McKavitt St
P.O. Box 1749
Mason, TX 76856
Toll-Free – 877-959-5500
Call – 325-347-6653
Central Texas Farm Credit
Farm and Ranch Loans
We have loans to meet the financing needs of both full- and part-time farmers and ranchers. Long-term mortgage loans are available for land purchases and refinances. We finance farm and ranch improvement projects like irrigation and land leveling. We also can provide financing for both new and used machinery and equipment purchases, operating expenses and livestock purchases.
P.O. Box 1231  –  203 South Blackburn  –  Brady, Texas 76825-1231
Toll Free: 1-888-597-3522
Phone: 325-597-2252
Fax: 325-597-2983
Jeff.Bedwell@ranchmoney.com
Counties Serviced by this Office: 
Concho, McCulloch, Menard and
San Saba
Other Mason Area Resources
The City of Mason-http://www.mason.tx.citygovt.org/
The County of Mason-http://www.co.mason.tx.us/
Mason Independent School District-http://www.masonisd.net/
Building Resources:
Mason Building Supply-https://www.facebook.com/Mason-Building-Supply-263451207067678/
Home Contractors:
Fencing Contractors:
Road, Excavation & Dozer Services: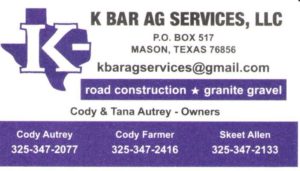 Water Well & Irrigation Services:
Septic System Services: